Snap A Photo, Resolve A Claim
It's no secret today more than ever we not only expect but often prefer things delivered to us digitally. Our thoughts - why should the insurance claims process be any different? Imagine calling your insurance company to file a claim, only to wait on hold and be transferred around like some sort of hot potato. On top of it, you then must wait for someone to physically come out and inspect damages delaying the process even further. For many Insureds, this is still the reality. Not at Swyfft. With us, you won't be passed from person to person and you'll never have to take off work and wait around for an inspector to come. With two new players in our toolkit, we tech enable our Insureds putting the claims process in their own hands, literally. If you can snap a photo, we can virtually resolve your claim. How do we do it? Let's meet our new players.

HOVER - For Outside Claims
HOVER is based on a technology platform that was originally created for the U.S. Military Special Operations. Lucky for us, they've now migrated their technology into a solution that works on a standard smartphone bringing their app straight to your fingertips (hats off to you, HOVER!).

The Process
The process is simple - simply snap 8 photos capturing each angle of the home where the claim is. That's it, your part is done. HOVER takes it from there. The photos are automatically uploaded to the cloud. Using their patented technology, they then transform your photos into a fully measured and customizable 3D model. Swyfft desk adjusters assess and review each model with pinpoint accuracy and expedited speed keeping you informed in real time and resolving your claim up to 5x faster than using the traditional method. Did we mention Swyfft picks up the tab on your HOVERapp download. Curious what painting your home that perfect greige color would look like? Or perhaps a remodel is in your home's future. Once you've downloaded the app, you'll have the measurements and capabilities in your pocket, use and enjoy the mobile app forever at no cost to you.
Features
Measurements:

To-the-inch' accuracy on all complex exterior measurements including all roofing, siding, windows, surface areas, and openings.

Interactive 3D Model:

All the measurements and drawings of each elevation a contractor needs. Soffit, fascia, and flashing are all easily viewed leading to faster, more accurate and transparent estimations.




Check out this short VIDEO of HOVER in action to see how it works.
PLNAR - For Inside Claims
Plnar is the first digital desk platform that puts the fully realized context of interior spaces at a desk adjuster's fingertips and enables digital experiences for the modern world. For insurers, they enable the digital desk for interior property claims by putting desk adjusters virtually into interior spaces. Their intuitive AI- and AR-powered platform generates a complete set of data including interactive 3D models of rooms in minutes, all from your digital photo.

The Process
Much like HOVER, PLNAR allows you to snap photos of any interior damage in your home relating to your claim. Using the photos, the app generates a comprehensive digital report that includes critical dimensioning calculations, visuals and even material details. Swyfft's in house desk adjusters instantly review and assess all the information allowing them to make accurate and informed decisions rapidly, resolving your claim quickly and fairly.

Features

AR& AI- Enabled 3D Modeling:

Powered by plnar SmartPix™ and AI, plnar generates complete data sets and 3D models from digital photos taken of the interior property and damages.

Digital Desk Portal:

Desk adjusters can add annotations, take additional measurements from digital photos, update 2D & 3D models in real time, generate reports and leverage digital adjusting tools to resolve virtual claims with confidence.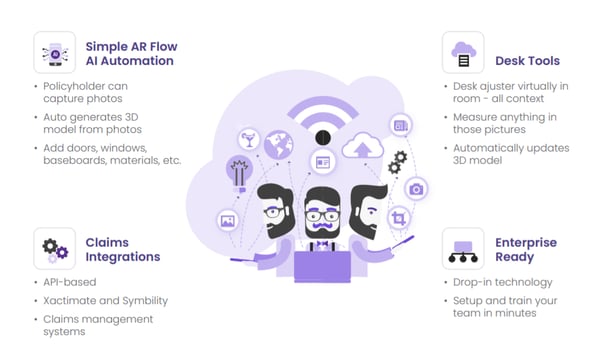 Check out this short VIDEO to see more.
Whether you're using HOVER or PLNAR, know that Swyfft is with you entirely. Our certified in-house desk adjusters review and assess every claim via all mediums and work with you throughout the process for a fast and fair resolution. We feel it's time insureds are able to use the power of tech and hold the claims process in their own hands, literally.