When a claim is filed…this is an insurance company's defining moment. The chance to shine, or not. For many people, it's the only time they will have direct contact with their carrier. We know you only get one shot to get it right.
So, we created three rules to live by when that first notice of loss comes in. It's served us well so far.
1. Keep Policyholders Informed
It may sound obvious, but one of the biggest complaints people have about their insurance claim experience is not knowing what's going on. In a world where you can Google anything or ask Alexa, people are accustomed to getting information instantly. And that's what they expect from their insurance company when they are going through the claims process.
Automation and Speed
When Swyfft policyholders report a claim online, they answer a few questions about the damage they've experienced. Their answers trigger a notification to the appropriate emergency repair professional within seconds. For example, if they select that their walls or floors are wet, Swyfft's local emergency water remediation partner is dispatched. The policyholder is informed by a phone call from our Direct Repair Network.
The Claims Portal Puts the Policyholder in Control
Immediately after submitting an insurance claim, policyholders receive a registration email and text message for the Swyfft Claims portal. In a few seconds, they can create an account and start managing their claim.
The Swyfft Claims Portal helps policyholders:
Review and track claim status

Connect with their assigned adjuster

Review upcoming appointments

Upload photos and videos of damage

Upload receipts and other important claims documents

Receive push notification by text or email when updates to their claim are made

Rate their satisfaction level with the services provided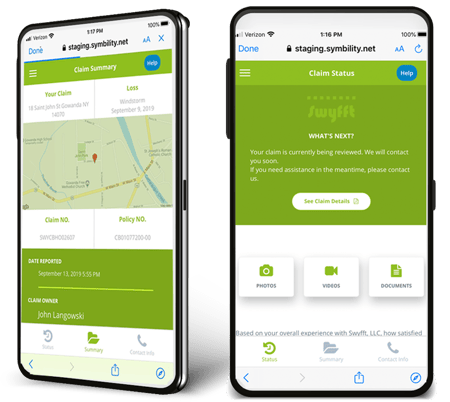 Once getting the hang of it, we've found customers love it and log in regularly to check up on their claim. Bottom line, giving customers the tools to stay informed and participate in the claims process is always a good thing.
2. Maximize Human + Tech Power to Quickly Resolve Insurance Claims
This is probably our favorite topic. After all, we did get our start as an insurtech, offering quoting in seconds with only an address. It makes sense we're hyper focused on using the latest technology to improve the claims experience. BUT, not at the expense of losing the human element. Computers are great. They allow us to perform tasks more accurately and faster than ever. Yet, we've all experienced the failures of artificial intelligence…like when Facebook sends you that slideshow and your ex is in every photo. Whoops. So, while we rely on technology, we also rely on our team of professionals to do the work computers can't. Catching those small percentage of AI bloopers before they reach customers.
Inspection by Drones
Drones have been around for a while, but not everyone has embraced their usage in adjusting insurance claims. We feel this is a teaching moment. There was a time when people didn't trust electricity. But drones are here to stay, and we believe that when used responsibly by certified drone operators, they are super precise.
And it's not just us. When you compare the numbers, you can't deny the fact that a drone flying around snapping photos is more accurate and efficient than a person with a camera. For example, a drone can take 340 high resolution photos within minutes. That's compared to the 40 pics that a traditional inspector usually takes. They're also safer. Drones can access hazardous areas that a person can't because it's just too dangerous or impossible.
This is why we use drones to inspect roof damage. They're fast, safe and we get the photos almost instantaneously. These high res photos are then carefully reviewed by a Swyfft adjuster and used to create an accurate claim estimate.
Agents, help us educate customers about benefits of using drones for claims inspections. Share this video on your social media site or the following infographic:
Apps That Act as Field Adjusters
Touchless services have become quite popular since the COVID-19 pandemic struck. We get it. And that's why we now offer touchless claims inspections. We've teamed up with two of the top home surveying apps to offer a DIY inspection experience. With a smart phone and the apps, policyholders can quickly photograph and record damage, upload the files to Swyfft, and begin the adjusting process.
Using the PLNARapp policyholders can instantly take photos of any interior damage. Powered by AI and augmented reality the portal creates a 3D model of the room, including area and dimensions. It's highly accurate and many times eliminates the need for an onsite inspection. This allows for faster review, damage analysis and insurance claims resolution.
SNAP - In-App Intro from PLNAR on Vimeo.
Just like the PLNARapp, using the HOVERapp policyholders can instantly take photos of any exterior damage. From there, we're able to virtually inspect the property damage, ultimately speeding up the process.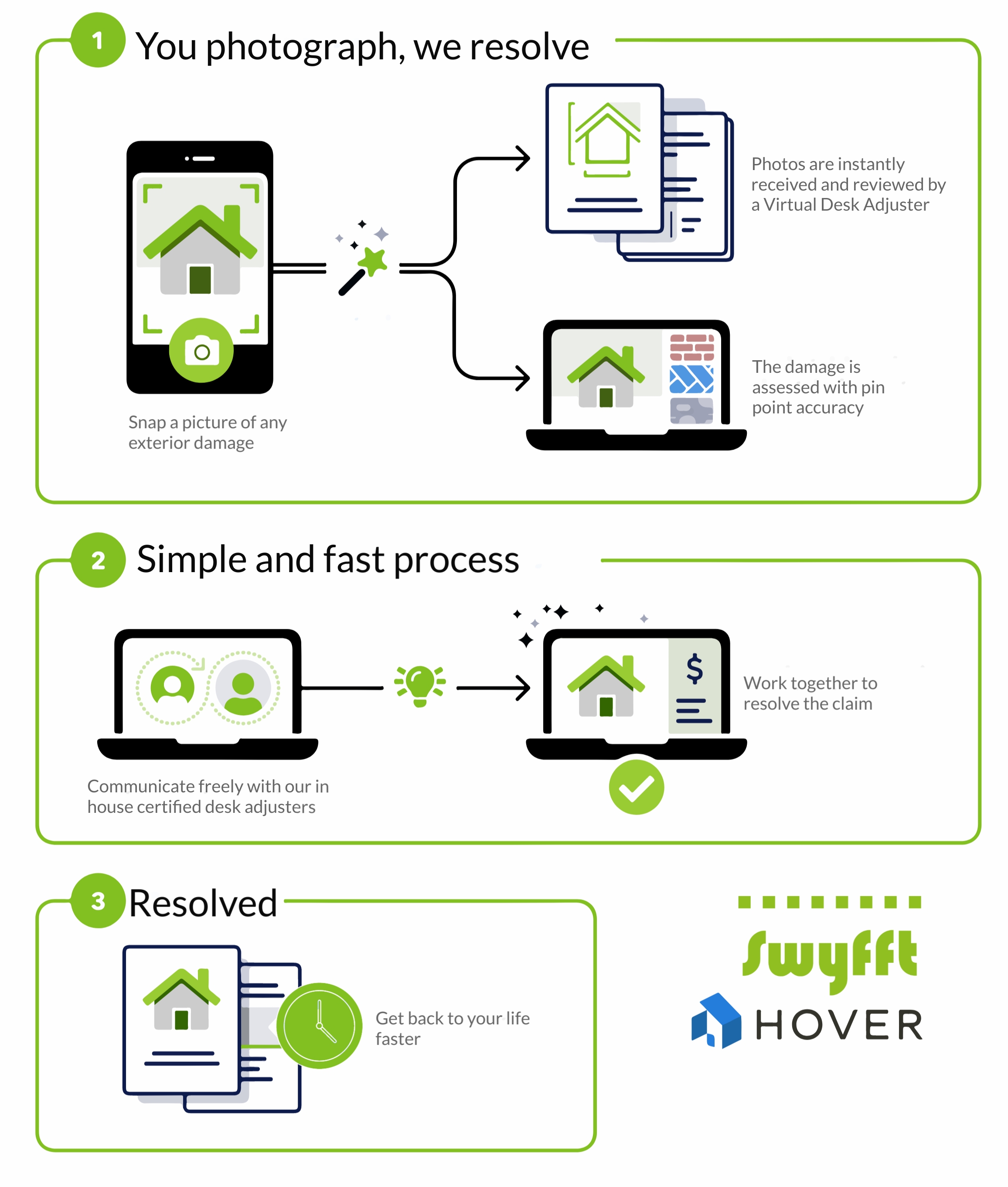 Our theory: the best insurance claim experience happens by empowering people with smart technology. Whether it's the insured, our adjusters or inspectors, if give people the right tools and several options, they'll be more satisfied.
3. Make the Repair Process Simple and the Outcome Easy to Understand
This might be the most important part for our insureds. They want the damage gone so they can get back to normal life. But selecting a repair vendor can be tricky. There are a lot of bad actors out there looking to take advantage of people in dire situations. That's why we created our Direct Repair Network. We can easily connect policyholders with a trusted, local repair pro that provides a better warranty on their work than what is available in the market.
What are the benefits of using our Direct Repair Network?
For emergency services, all mitigation costs are covered, no questions asked. The insured will never be charged for emergency cleanup services rendered.
All worked is backed by a 3-year warranty. If it's not right, we'll fix it at no charge.
Everything is handled and coordinated for insured.
We pay the repair vendor directly so insureds never have to worry about it.
How it works